Volta Region tops Regional Coordinating Councils ranking in Local Government report
Volta Regional Coordinating Council has emerged number one in the latest Local Government Service performance report across the 16 regions.
The monitoring and verification exercise was for the year 2020 based on the Local Government Service's Performance Contract of the 16 Regional Coordinating Councils (RCCs) and the 260 Metropolitan, Municipal and District Assemblies (MMDAs).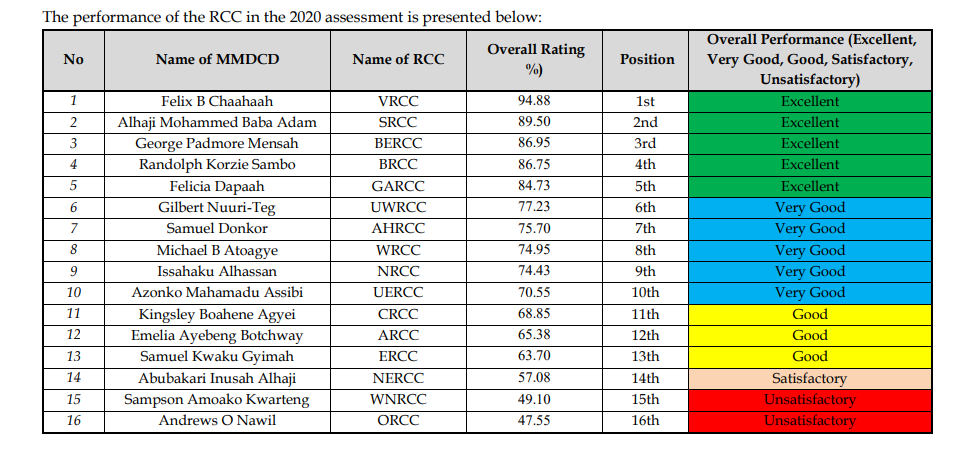 The 94.88% scored garnered by the Volta Regional Coordinating Council led by Felix Chaahaah, was enough to put them on top of the list.
Meanwhile, Oti Region came in last with 47.55% placing them at the bottom with an unsatisfactory score according to the report
The 337-page report is essential to monitor and verify the annual performance of RCCs & MMDAs based on their Annual Performance Evaluation Reports from the Performance Contracts signed between the RMs and RCDs at the regional level as well as the MMDCEs and MMDCDs at the local level.
It also identifies comprehensive recommendations and feedback on the findings of the performance status of the RCCs & MMDAs against their evaluation reports.
Some of the observations made by the report include inadequate office accommodation mostly in the newly created RCCs (especially Bono East, Western North and Ahafo). The report also revealed that Departmental monitoring and technical backstopping reports were not sent to OHLGS and the relevant MDAs through the RCC.
Irregular submission of quarterly departmental reports through RCDs and also inadequate funding remains a problem for the RCCs.
The Report, however, made some recommendations to help improve activities in the departments across the country.
One of them was for RCDs & MMDCDs to share the contents of the contracts with their staff as soon as they are signed. This will ensure that Heads of Departments are aware of, and contribute to the collective achievement to set indicators and targets.
The MMDAs have also been tasked to organise training programmes on Records Management for
relevant staff to improve their capacity to perform their functions effectively.
According to the report, the trainings should be followed by the provision of necessary equipment and other logistics.
The OHLGS have also been urged to sensitise Regional Ministers and MMDCEs on the need to demonstrate greater commitment and interest in the PC process.
Source: myjoyonline.com