Two students with dreadlocks have allegedly been denied admission into the Achimota Senior High School.
According to JoyNews' sources, school authorities claim it is against the rules of the school to admit students with dreadlocks.
"School authorities of Achimota school have denied two brilliant dreadlock students from being admitted after having been posted there by the Computerised School Placement System," a parent whose son was among the two students shared on Facebook.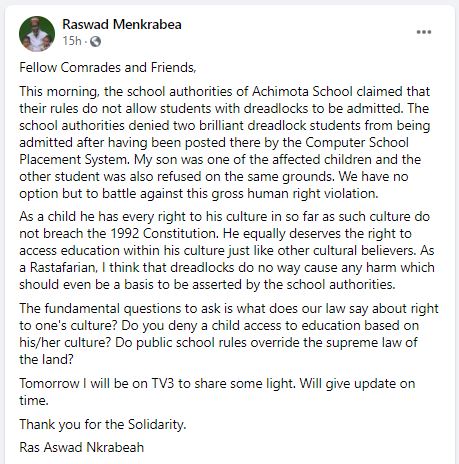 Meanwhile, former Kumbugu MP, Ras Muburak has questioned the school's decision.
According to the MP, the move is a violation of articles 21(1)(c), 25(1), 26(1) 28(3) and 28(4) of the 1992 Constitution.
Mr Mubarak in a Facebook post said the Constitution makes it clear that no child should be deprived by any other person of medical treatment, education or any other social or economic benefit by reason only of religious or other beliefs.
Thus, the former MP said the decision to deny students admission on the basis of their Rasta culture is not a step in the right direction.
"Not accepting them into the school because of their dreadlocks is degrading treatment which is frowned upon under article 28(3). The school may have its rules, but those rules, and all other rules and laws are subservient to the constitution of Ghana. The supreme law of the land is the constitution," he said.
He, therefore, has asked the school authorities to rescind their decision and admit the students.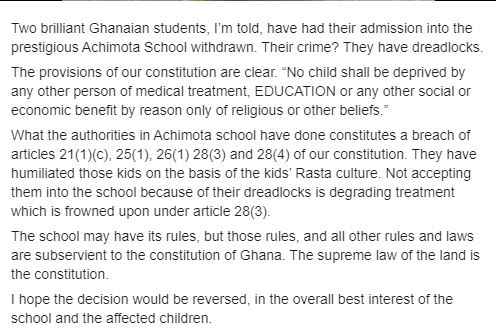 "I hope the decision would be reversed, in the overall best interest of the school and the affected children," he said.
The Achimota School is yet to respond to the issue.
Source: myjoyonline.com